Long distance calling
By Ethan Smith
Published in News on June 25, 2017 9:12 PM
Full Size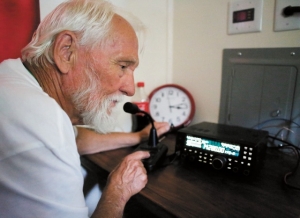 News-Argus/CASEY MOZINGO
George Skiba listens closely as he tries to make contact with another amateur radio operator during the Wayne County Amateur Radio Association's Field Day Saturday.
Full Size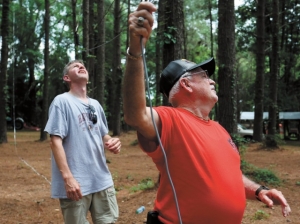 News-Argus/CASEY MOZINGO
An antenna is set up outside of a tent at the Wayne County Amateur Radio Association's Field Day Saturday on Salem Church Road.
Full Size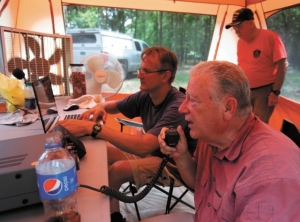 News-Argus/CASEY MOZINGO
Ray Lane logs contacts Randy Weiss is making during the Wayne County Amateur Radio Association's Field Day.
To the casual listener, it probably sounds like a different language.
When amateur radio operators key up their mics, a string of words and numbers comes out as they respond to whoever they've made contact with.
Words like "alpha," "November," "hotel" and others are punctuated by numbers and call signs.
But make no mistake, these words and numbers mean very specific things to radio operators -- even ones in Toronto, Quebec, Massachusetts and elsewhere.
That's because Saturday marked the Amateur Radio Relay League Field Day for the United States and Canada.
Members of the Wayne County Amateur Radio Association gathered at 2104 Salem Church Road in a grove of trees to make contact with other amateur radio operators all over North America.
Participants gathered in tents and trailers, stringing up homemade antennas between the trees in an effort to test how sturdy their response would be in any emergency situation where other forms of communication fails.
Les Shook and George Skiba were hunkered down in a small trailer, and said they had made contact with people in Mississippi, Alabama, Massachusetts, Illinois and more only an hour into the event.
Each operator can communicate on different bands and frequencies, depending on what they're trying to do.
Shook and Skiba were operating on a 20-meter band.
Skiba has been an amateur radio operator for 14 years, while Shook has been doing it since 1993.
"It's exciting when I get to tell my wife I talked to a guy in Italy, or Spain or China," Skiba said.
Shook said days like Saturday presented a challenge for ham radio operators -- the name for amateur operators -- because the hotter the atmosphere is, the more difficult it is to communicate across radio waves.
The men said they were able to make contact last year with places as far away as Utah and Oregon.
Communicating across long distances is called "DXing," Shook said, which simply means distance communication.
Skiba said he first got into radio communication in the 1970s, when he "lucked up" and manage to rearrange the crystals inside a radio to connect to a relay in Greenville.
He said he couldn't talk on the radio, but he could hear what was going on in the airwaves.
Peter Wene, president of the Wayne County Amateur Radio Association for the past 10 years, said he first got into radio when he went to Korea.
Someone there "Elmered" him, which is radio operator slang for mentoring someone and showing how to get a radio operator's license. While they are called amateur radio operators, it is only because they cannot be paid like professionals are. This means everything the men do is on volunteer time.
Regardless, they do it because they love it.
The event began at 2 p.m. Saturday, and ran until 2 p.m. Sunday.
For 24 hours, the group manned their radios and made contact with far away places, often wishing each other good luck with the field day before signing off.
Other Local News