MOUNT OLIVE MESSENGER: Kornegay to serve as District 3 representative on town board
By News-Argus Staff
Published in News on June 23, 2017 3:53 PM
Full Size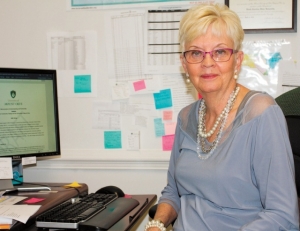 News-Argus/STEVE HERRING
Pictured is Barbara R. Kornegay has been sworn in as the District 3 representative on the Mount Olive Town Board
MOUNT OLIVE -- Barbara R. Kornegay has been sworn in as the District 3 representative on the Mount Olive Town Board.
She will complete the term of Commissioner Tom Preston who resigned effective May 31.
Preston plans to move to Wilmington where his business, Preston Management Roofing and Insulation, is headquartered.
Mrs. Kornegay announced in February that she would run for the at-large seat currently held by Jerry Harper.
Mrs. Kornegay, vice president for enrollment at the University of Mount Olive, said she will now run for the District 3 seat instead.
Filing for the two-year term does not begin until July.
Preston, who was chairman of the search committee for his replacement, recommended Mrs. Kornegay to the full board.
Preston and Mrs. Kornegay live in the same neighborhood.
Board members stood around Mrs. Kornegay as the oath of office was administered by Mayor Ray McDonald Sr., a longtime friend of the Kornegay family.
It is the first time she has held elected office.
"One of the things that Ray and the board members stressed was that to get anything done you have got to cooperate and work together," Mrs. Kornegay said.
Mrs. Kornegay has met with Town Manager Charles Brown for a briefing on the town's ongoing projects.
"I want to have an active interest and be able to vote for anything that is progressive for our downtown particularly," she said. "I think this board has done a lot to advance the town. I would love to see that continue to happen downtown as well as in other parts of Mount Olive if we can bring more industry, or restaurants and shops and things that will be of interest to people around town."
She said she also wants a town that is clean and friendly toward students at the university.
"These students here are with us at least nine or 10 months," she said. "We are an industry, and they bring revenue to this town. So I want to make it a place that they want to come to.
"I feel like we have that, but I want to make sure that we continue it. So, I'd say economic growth is real important. That is something that I have always been interested in anyway."
Mrs. Kornegay has resided in Wayne County for the last 32 years, serving the University of Mount Olive (previously Mount Olive College) when it was a two-year junior college, when it transitioned to a four-year institution, and now as a university with graduate degree programs.
Prior to coming to Mount Olive, Mrs. Kornegay served as a grade school teacher, choir member and director, adult educator and college professor.
Her professional life also includes previous employment as personnel manager for the state of North Carolina for three years at O'Berry Center in Goldsboro.
Mrs. Kornegay has a bachelor's degree in elementary education with a minor in music from Appalachian State University; a master's degree in adult and community college education with a minor in sociology from N.C. State University; and a doctorate degree in adult and community college education with a minor in sociology from N.C. State University.
Mrs. Kornegay has served as the vice president for enrollment at the University of Mount Olive since 1997.
In that role she supervises all marketing, admissions and financial aid personnel; oversight includes comprehensive marketing of Mount Olive College via website, billboard and publications, information sessions and all other marketing functions for seven locations serving approximately 5,000 students.
She held various positions at the university between 1984 to 1993, then she became personnel manager at O'Berry Center to January 1997.
But even while at O'Berry, Mrs. Kornegay remained a professor in adult education at the university, a position she still holds.
She is a past member of the Global TransPark board and the Wayne County Economic Development Commission.
Other Local News