Use caution in the water
By Ethan Smith
Published in News on June 21, 2017 8:18 AM
Full Size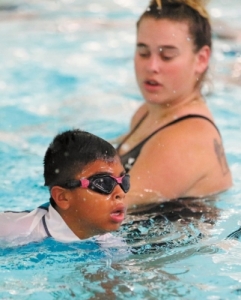 News-Argus/CASEY MOZINGO
Aaron Abrego, 6, practices his breast stroke during swimming lessons at the Goldsboro Family Y. Aaron's mother, Veronica, said, "He loves water. He can stay in the water all day long." Their family is thinking about installing an in-ground pool and wanted him to learn how to swim.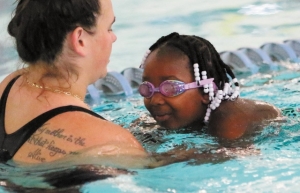 News-Argus/CASEY MOZINGO
Azarriah Bowser, 8, gets swimming lessons from instructor Madison Houchins at the Goldsboro Family Y on Tuesday. Azarriah is taking her first swimming lesson in three years.
It's officially summer.
That means warm, carefree days -- often spent on the water.
Be it on the lake, in the pool or in the ocean, use caution before diving in.
Lt. Ian Barratt with the Wayne County Sheriff's Office Dive Team said swimmers should always know their limits -- and stay within them.
Barratt said people should always swim with a partner and never alone.
He added that people shouldn't swim when they're tired or overheated.
"When people get too hot their body cools down rapidly when it goes in the water, and that can put them into shock," Barratt said.
Though there are plenty of places locally to enjoy watersports and put your boat in for a cool, relaxing day on the water, Barratt said there are some warnings people need to heed.
"Always let someone know where you're going and when you're expected to be back, that's the main thing," Barratt said.
He said most of the time the Dive Team is called out for boaters stuck on the water.
Barratt said if you find yourself stuck on the water, stay with the boat if it's operable.
"It's easier for us to spot a boat than it is a person," Barratt said.
If you don't plan to put a boat, kayak, canoe or jet ski in the water, opting instead for a casual dip in the Neuse River or a lake, still use caution.
Barratt said people need to know the area they are going swimming in before they dive in.
"Know the area where you're swimming," Barratt said. "Sometimes there's stumps and tree branches or obstructions under the water that people don't realize, and they get injured."
But swimming in local rivers, creeks, lakes or pools aren't the only time people need to use caution.
Plenty of people travel to the beach in the summer, and there are dangers to be aware of there, too.
Two teenagers from Goldsboro -- 17-year-old Elijah Hinnant and 16-year-old Tyresse Worsley -- were recently caught in a rip current at Emerald Isle. Both died as a result.
Emerald Isle Fire Chief Bill Walker said rip currents are a danger every day on the beach strand, but they can be spotted from the shore.
"Basically when the water comes in it has to go out, and it forms a channel to go back out, and where that channel is there's a rip current pulling the water back out," Walker said.
Rip currents can be identified by gaps in-between waves, which form a channel heading out to sea, and can also be demarcated by a channel of rough, churning water; debris, sea foam or seaweed moving constantly out to sea; or discolored water offshore.
But you can't always see rip currents in the water, and people should still be cautious entering the ocean.
A good way to figure out whether or not it's safe to swim in the ocean is to look at the flags on the beach.
Walker said Emerald Isle uses a flag system to let people know how dangerous the water is.
Green means everything is all clear and there is no danger present, yellow means there are dangers in going for a swim in the ocean and swimmers should be cautious, and red means not to go for a swim under any circumstances.
Walker said Emerald Isle never uses the green flag.
"We use just the yellow and the red. Basically, 99 percent of the time we are under a yellow flag," Walker said. "The reason we do that is it's never always safe to be in the ocean. There's always animals out there -- sharks, jellyfish -- holes in the bottom floor, rip currents, all sorts of dangers out there that we want you to be aware of. We're not going to tell you it's green flag, just go out there. We always want to recommend swimming with caution."
Walker said even when swimmers can venture into the ocean, they should still not go too deep into the water and should swim with caution.
He reiterated that people should swim with a partner and never venture into the ocean by themselves.
"I usually say if you're a strong swimmer, I wouldn't go a whole lot farther than your waist level," Walker said. "If you're not a strong swimmer, I wouldn't go any farther than my knees. Either way you can keep a good, strong footing on the ocean floor."