New southern food restaurant to open in Pikeville
By Rochelle Moore
Published in News on June 21, 2017 7:08 AM
Full Size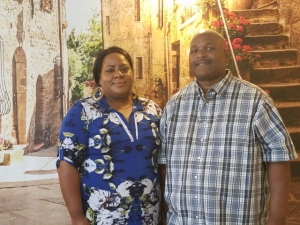 News-Argus/ROCHELLE MOORE
William and Erica Hannah prepare to open Southern Comfort Restaurant in Pikeville.
PIKEVILLE -- A new Southern-style restaurant, with a flair of soul food, is gearing up for a July 1 opening in Pikeville along U.S. 117.
Southern Comfort Restaurant will open its doors at 6 a.m. and plans to operate seven days a week at 101 Goldsboro St.
"We do catering already," said Erica Hannah, co-owner who will operate the restaurant with her husband, William. "Because we had a lot of demand from a lot of people (about opening) a restaurant, we decided to go that route."
The husband-wife team have operated a catering business, primarily in Goldsboro, for the past 10 years. They also learned that the property was available, after being vacated by a restaurant a year ago following a fire in the kitchen.
The Hannahs have renovated the inside of the building, new restaurant equipment has been added, the walls are painted and new tables and chairs added. The couple also added a large mural of a small Italian village.
The outside of the building is also improving, with the addition of landscaping along the front and a new sign will be added. A temporary sign will be on the building until a more permanent sign is delivered, Erica said.
"This area needs some good food," Erica said. "Even the customers have been telling us that."
Southern Comfort Restaurant, which has a seating capacity for 64 customers, will be a full-service business, with a salad bar and meals made to order. A regular menu will be offered during breakfast, lunch and dinner and daily meal specials will be available.
"We specialize in Southern comfort food and soul food," she said. "Everything is cooked fresh and home made. Our business model is, 'From the garden to the table.'"
The restaurant's focus is also to become a place for good food, good friends and good times, she said.
"We want people to enjoy themselves," she said. "In Southern areas, there's not a lot to do and people enjoy eating and talking. A lot of good memories are created at the dinner table."
The breakfast menu will include traditional favorites such as bacon, eggs and sausage, as well as soul food items, including fatback and chicken and waffles.
"We'll have the traditional country breakfast but we also will have salmon croquette, shrimp and grits, and fish and grits," she said.
The lunch and dinner menu will regularly have cheesesteak, hamburgers, cheese burgers and fried pork chops, fried fish and fried chicken.
Different specialty meals will offered each day and are planned to include smothered pork chops, beef tips and rice, pig's feet, barbecue chicken, chicken pastry and smothered chicken.
A variety of country side dishes will be on the menu including macaroni and cheese, collard greens, squash casserole, black-eyed peas, sweet potato pudding, as well as green beans, peas and corn.
Regular desserts include banana pudding, peach cobbler and sweet potato pie. Different cakes will be available at different times, including pineapple, strawberry and butterscotch cake.
When the restaurant opens, a grand opening raffle is planned, as well as other special promotional items.
The couple is looking forward to operating a successful business in northern Wayne County.
"We feel real confident that people will really enjoy it here," she said. "Since we've been here, people have come and wanted to eat."
The restaurant will be open Monday through Saturday from 6 a.m. to 9 p.m. and Sunday, when only the dinner menu will be available, from noon to 6 p.m.
Carryout, catering and delivery services are available. Deliveries to surrounding areas, including Pikeville, Fremont and Goldsboro, are provided for orders of $20 or more. The restaurant can be reached at 709-4277.
During the holiday season, plans are already in the works for reservation-only dining on Thanksgiving Day. Carryout meals will also be available if they are preordered.