MOUNT OLIVE MESSENGER: Tournament play
By Steve Herring
Published in News on June 21, 2017 2:23 PM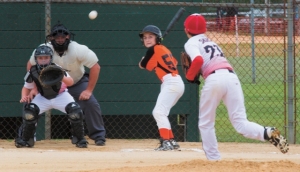 News-Argus/STEVE HERRING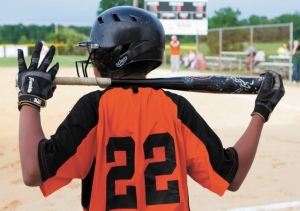 News-Argus/STEVE HERRING
Trojan Michael Martin limbers up before batting.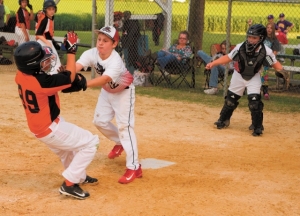 News-Argus/STEVE HERRING
Nathan Lassiter, left, is called out after running into Alex Ferrell Jr., who was holding the ball.
News-Argus/STEVE HERRING
The Vipers' Carson Wise, left, pivots to return to first as the Trojans' Thomas Weaver fields the ball. Wise safely beat the play back to first.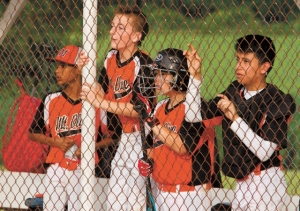 News-Argus/STEVE HERRING
Below, from left, Trojans Isiah Jones, Gabriel Carmack, Nathan Lassiter and Domingo Medina cheer on their team from the dugout.
Full Size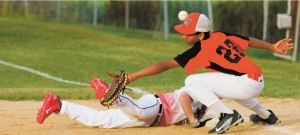 News-Argus/STEVE HERRING
The ball takes an odd bounce and sails past Trojans first baseman Michael Martin after hitting near the bag allowing the Vipers' player to slide safely back to base.
The Mount Olive Parks and Recreation Department recently hosted three days of a 12-and-under baseball tournament at Daughtry Field. Teams from Mount Olive and across Wayne County participated in the tourney. The Trojans and Vipers from Mount Olive faced off in the opening game with the Vipers claiming a 15-12. The Vipers advanced to the semi-finals before losing out. The tourney title was claimed by the team representing the Boys and Girls Club of Wayne County.
Other Local News