Health-related essays earn teen scholarships
By Phyllis Moore
Published in News on June 21, 2017 7:08 AM
Full Size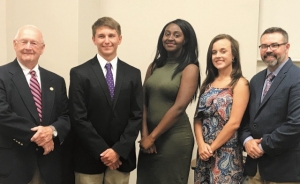 Submitted photo
The three finalists for the Charles T. Gibson Teen Public Health Leadership Essay Contest, were recognized at the Board of Health meeting on Wednesday night at the Wayne County Public Library. Each student did a presentation on their public health topics, and received a scholarship award and gift card. From left, Charles T. Gibson, a former board member for whom the award was named, Dalton Ira, first place; Makaila Colebrook, second place; Amelia Marriner, third place; and Davin Madden, health director.
Three Wayne County teens brought up some worthwhile topics at a recent Board of Health meeting, earning them college scholarship money.
The youth were finalists in the annual Charles T. Gibson Teen Public Health Leadership Essay Contest, named for a long-time former member of the board.
The evening meeting, held at Wayne County Public Library, was an opportunity for the students to share about a public health topic that is an issue in the county along with a possible solution to resolve it.
Dalton Ira, a rising senior at Rosewood High School, earned first place for his presentation on inequalities in sex education.
He maintained there have been differences in how the subject matter is taught to male and female students -- in class time, standards in other states and in the information taught.
"We have to provide consistency with the rules and regulations of sexual education," he said, sharing that one reason for the disparity may be lack of funding in schools for the teaching.
"Education needs to be for everyone and it shouldn't matter if you're a boy or girl, if you live in Texas or New York. You should have the same education. Equality is the goal overall."
Ira's award was a $1,000 scholarship and $75 gift card.
Teen suicide was the topic chosen by Makaila Colebrook, a rising junior at Eastern Wayne High. Her second-place finish netted her a $500 scholarship and $50 gift card.
Amelia Marriner, a recent graduate of Wayne School of Engineering, spoke about disease prevention in relation to the flu epidemic.
She received third place, a $300 scholarship and $50 gift card.
This marked the 14th year for the essay contest, said Celita Graham, health education supervisor.
Sponsored by the Health Department and Board of Health, it was started in 2003, then called the Abstinence Essay Contest as it focused primarily on abstinence as a preventive measure against teen pregnancy.
In 2014, it was broadened to incorporate any public health issue included in the community health assessment.
"We wanted to see what issues were affecting them, so that we as leaders can address them moving forward," Miss Graham said.
The contest was renamed last year for Gibson, a retired pharmacist who had served on the Board of Health for 11 years.
Bob Cagle, board chairman, praised the students for their approach to the worthwhile topics.
"All three of these presentations are right on point," he said. "We talk about all three of these things at our Board of Health meetings. We're constantly and continually doing things to educate and work on these."
Other Local News