Southern Wayne alumni create a scholarship opportunity
By Phyllis Moore
Published in News on June 20, 2017 7:00 AM
Full Size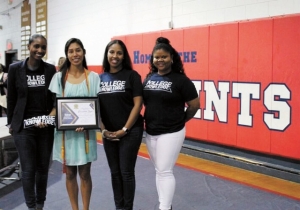 Submitted photo
Three Southern Wayne High School alumnae from the Class of 2001 founded an organization to support students in going to college, recently presenting their first $1,500 scholarship to a senior at their alma mater. Recipient of the Dreamers and Doers scholarship Elizabeth Lopez, second from left, graduates this week and will be attending University of Mount Olive in the fall. The founders of College Knowledge, from left, are Faith Leach, Angel Flow Williams and Rachell Carroll.
Classmates Rachell Carroll, Faith Leach and Angel Flow Williams remember the struggles of getting ready to go to college -- from filling out applications to securing financial aid and everything in between.
The three were friends since primary school, attending Brogden Middle School and then Southern Wayne High, where they were all on student council together.
Part of the Class of 2001, they shared similar backgrounds and many common interests. When it came time to prepare for college, they encouraged each other throughout the process.
"Me and Faith ended up going to N.C. State and Angel was three minutes down the street (at UNC-Chapel Hill)," Miss Carroll said.
The young women went on to have their own success stories.
After graduating from NCSU in 2005, Miss Carroll earned a master's degree from Elon University in interactive media and now works for a public relations firm in Charlotte.
Miss Leach received her bachelor's degree from NCSU and a masters in public administration from N.C. Central University. She lives in the Washington, D.C., area, where she is chief of staff to the deputy mayor for greater economic opportunity.
Mrs. Williams graduated from UNC-CH in 2005, majoring in mass communications and African American studies. She worked at the UNC Alumni Association before traveling the world with her husband, Jawad Williams of the 2005 UNC basketball team. The couple lives in Durham with their two children.
Not content to focus on their own lives, though, they have had many conversations over the years about how to help others.
"We always wanted to find a way to give back to our high school and the area where we lived, because we know how difficult it was. Sometimes we didn't feel like we had the added support," Miss Carroll said. "Now being so far away, we felt like a scholarship was a way for us to give back and have an impact in our community."
In July 2016, the women founded College Knowledge, part of a non-profit dedicated to developing youth into future leaders. The goal was to provide resources and help to students and families learning more about the college admissions process.
"College often seemed out of reach to me, but by persevering through challenges, I successfully made it to N.C. State University and became a first-generation college graduate," Miss Leach said. "Higher education changed my life and the trajectory of my family.
"I co-founded College Knowledge to encourage young people from rural North Carolina to go to college and follow their dreams no matter the obstacles in their way."
Last summer, the women led a half-day program to support Wayne County youth and their parents in preparing for college. The free seminar enlisted the help of college counselors, former students and current students in college, educating them on the process of pursuing higher education.
Taking it a step further, the Dreamers and Doers Scholarship was developed. Students from under-represented populations with a grade-point average of 3.0 were encouraged to apply. A written essay was required, describing the student's community and civic involvement and any obstacles faced and overcome in the college enrollment process.
For its inaugural year, a $1,500 scholarship was presented to Elizabeth Lopez, an honor student who just graduated from Southern Wayne. The award will be used for textbooks, supplies and other materials when she attends the University of Mount Olive in the fall.
"What stood out most about Elizabeth Lopez is her drive to succeed for herself and her family," Miss Carroll said. "No matter the obstacles faced, she remained optimistic and resourceful, finding other avenues to help her family with the costs of attending college.
"She is well deserving of our scholarship."
This marks the first scholarship award for the non-profit, but definitely not the last, the women said.
"We hope to maybe expand it throughout the county," Miss Carroll said.
Showing up at their alma mater to present the first award was poignant for the former students.
"It's really emotional," Miss Carroll said. "Just because whenever we were going to college, we had a few people looking out for us.
"This is kind of like the circle of life -- someone helps you reach your goals. Now we're at a point in our lives we can reach out and help others."
Mrs. Williams agreed.
"It feels amazing to know the scholarship funds will provide a bit of relief to Lopez's family," she said. "College is expensive, and the numerous small things you need along the way can add up quickly.
"I know firsthand how any extra resources can be helpful."
Other Local News