Books and building
By Joey Pitchford
Published in News on June 20, 2017 7:00 AM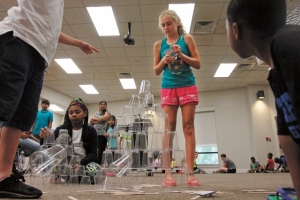 News-Argus/STEVE HERRING
Natalie Rheingruber, right, watches as her tower of plastic cups tumbles down. She was among the children taking part Monday in the first session of the summer reading program at the Wayne County Public Library. The theme is Building a Better World.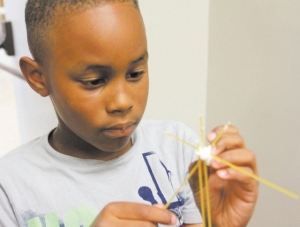 News-Argus/STEVE HERRING
Jael Robinson, 6, uses miniature marshmallows and uncooked spaghetti to create a structure following Monday's summer reading program at the Wayne County Public Library.
For the kids at the Wayne County Public Library's summer reading program, reading is the first step toward making Goldsboro a better place to live.
More than 30 kids gathered at the library Monday for the program's first event this season. With the theme Building a Better World, the event focused on the ways that people build and work together in order to improve their communities.
Set up at stations around the room, groups of kids built structures with Lego bricks, wooden blocks, popsicle sticks and plastic cups.
Several kids lined the wooden blocks up into houses, while others took a somewhat more abstract approach to their creations.
Canaan Therrian, 6, set to work on what he called his "double castle," a two-tiered popsicle stick masterpiece. Standing nearby, his mother, Venessa, said that she has been bringing her kids to the summer reading program for 11 years now.
"We're a homeschool family, and so I really like the incentives the library provides to encourage reading," she said.
Gavin Huang, 8, eyed a precariously leaning tower of cups he had just finished constructing. Gavin said he had been to the summer reading program once before, and enjoyed being able to build things.
The event, which included kids ages 6 to 12 years old, was the second of its kind that day. An earlier event catered to younger children.
While letting the kids flex their creative muscle was a highlight of the event for them, there was more to it than that.
Matt Whittle, executive director of Habitat for Humanity Goldsboro/Wayne County, explained how the organization builds homes for those who need extra help, and described the living conditions of some of those people before they began their projects.
"How many of you have your own rooms?" he asked as several hands went up. "Some people don't have that. Imagine having to share that one room with three, four or even five brothers and sisters."
Whittle went on to show the children a selection of construction tools used by Habitat volunteers on construction sites, and explained how they work. Whittle was impressed when one child in the audience was able to identify a chalk line tool, one of the less recognizable items he had brought with him.
"We need to give you a call, come talk to me afterward," he said with a smile. "We'll get you employed quick."
Ana Snyder, Children's Development Head, went through a slide show of famous structures around the world, including the Eiffel Tower, Taj Mahal and the White House.
She asked the kids if they had heard of the locations, or if they had seen pictures of them before. Hands went up for each one, the kids excited to be able to show their knowledge.
The summer reading program will continue through the season, and touch on a different topic within the overall theme each week.
Ms. Snyder said around 300 children are signed up to attend over the course of this year's program.
Other Local News