Three Goldsboro siblings and GHS graduates go on to earn doctoral degrees
By Phyllis Moore
Published in News on June 19, 2017 7:36 AM
Full Size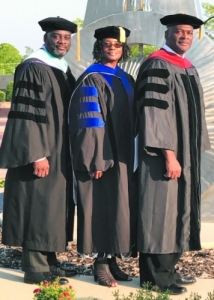 Submitted photo
Dr. Larry Johnson, left, recently earned his doctor of education degree in high education leadership from East Carolina University. The occasion also made the doctorate distinction unanimous with his siblings, Dr. Cynthia Johnson Reynolds, center, and Dr. Michael Johnson, all from Goldsboro.
Siblings Michael Johnson, Larry Johnson and Cynthia Johnson Reynolds all graduated from Goldsboro High School and went on to earn doctoral degrees.
But early on, they were considered "at-risk," Mrs. Reynolds said.
"We are first-generation college graduates from our family," she said. "Our mother dropped out of high school after completing her 11th grade year to have my oldest brother, Michael. Our father did graduate from high school but never attended college."
At age 25, their mother was rearing four children alone, she said. Fortunately, their grandmother, Louise Best Hamilton, whom they affectionately called "Granny," stepped in to help.
Mrs. Hamilton instilled in the children the importance of education as well as faith. After she died in 1977, her children, Robert Hamilton and Joyce Hamilton, continued to guide their nephews and niece.
"I lived with Aunt Joyce for the next two years until I graduated from high school and left for the Army," Mrs. Reynolds said. "My brothers remained in the home with my uncle, William Hamilton, until each of them graduated and joined the military.
"These two individuals were there for us at a time when we thought no one cared about us, including our parents."
Entering the military afforded each of them opportunities to further their education -- Michael and Larry through the Air Force and Mrs. Reynolds through the Army, where she served six years before having her first child. The fourth child, James, a United States Army veteran, passed away suddenly in 1989, at age 30.
The remaining brothers and sister boast an impressive list of credentials.
Mrs. Reynolds received a bachelor in business administration degree from Augusta State University, a masters in educational leadership from N.C. State University and a PhD in K-12 educational leadership from Walden University.
She worked as a career and technical education teacher from 1998 until 2004, when she became an administrator at Spring Creek High School. Since 2010, she has been director of middle grades, secondary education and accreditation with Wayne County Public Schools.
She and her husband, Dr. Ira Reynolds, have two children, Clinton and Chantrel.
Michael earned an associate in applied science degree in administrative management through the Community College of the Air Force, an associate in arts degree and a bachelor of arts degree in human resources administration from St. Leo University.
Following retirement from the Air Force, he became an ROTC instructor at Tarboro High School while completing his master of pastoral counseling and doctor of theology degrees through Andersonville Theological Seminary.
For the past 20 years, he has been pastor at Ebenezer Missionary Baptist Church in LaGrange as well as moderator of the Bear Creek Missionary Baptist Association. Married to the former Wanda Simmons, they have two daughters, Kamesha and Kiahna.
Larry completed his associate degree in applied sciences from the Community College of the Air Force and a bachelor of business administration degree from Campbell University. After 25 years in the Air Force, he began teaching career technical education at Greene County Middle School. Since he did not have education credentials, he completed the additional 36 hours toward his N.C. teaching license, which he received in 2007.
He earned a masters of arts degree in adult education in 2010 and a few weeks ago, received a doctor of education degree in higher education leadership from East Carolina University.
Married to the former Chris Robinson, they have two children, DantÃ(c) and Phaedra.
The similarities between the Johnson siblings do not end with their degrees, Mrs. Reynolds said.
"Each of (our) spouses have earned advanced degrees," she said, adding that their children have also either completed or are in the process of going beyond their bachelors degrees. "All six of our children graduated from Eastern Wayne High School. Five of the six completed their undergraduate from ECU while one graduated from University of North Carolina at Chapel Hill."