Summer feeding programs available for children in city
By Joey Pitchford
Published in News on June 19, 2017 7:36 AM
Full Size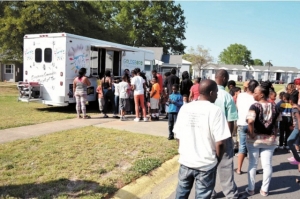 News-Argus/JOEY PITCHFORD
Residents from the Grand at Day Pointe apartments wait in line to receive a hot meal from the ADLA food truck on its first day in operation April 14.
Full Size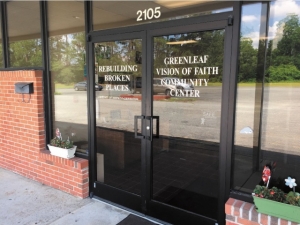 News-Argus/JOEY PITCHFORD
Rebuilding Broken Places Community Center at 2105 N. William St., a non-profit, is offering free meals to youth every weekday through Aug. 18.
For children in low-income families, summer can be the hungriest time of the year, but there are options throughout Goldsboro to help fill in the gaps.
The end of the school year also means the end of free and reduced school breakfast and lunch, which many kids rely on for their daily meals. Among the organizations looking to provide summer food is Rebuilding Broken Places, a local non-profit which provides summer camps and other youth programs.
Located at 2105 N. William St., Rebuilding Broken Places' summer meals program began June 12 and will run every weekday through August 18. Executive Director John Barnes said that any kids below the age of 18 can come between 11:30 a.m. and 12:45 p.m. to get a free meal.
Rebuilding Broken Places is a ministry of Greenleaf Church, but is separate from the church itself, Barnes said. You can contact Rebuilding Broken Places at 919-581-9178.
Other options exist through city and county institutions. The W.A. Foster Center, located at 1012 South John St., runs a summer food program in coordination with the Food Bank all throughout the summer season. Senior Assistant Josh Shockley said that the times are still being ironed out, but kids can come in to eat between around 11:30 and 12:30. A child does not have to be in any sort of summer camp to eat, but kids ages six years and younger must be accompanied by a parent.
Herman Park Center offers meals to any kids involved in its summer camps, through the same Food Bank partnership as W.A. Foster. The food itself comes from K&W Cafeteria, and is served at lunch time.
Skylar Kelly, Herman Park assistant recreation leader, said that the center is able to give any leftover meals to people in need who are not in any camps.
Herman Park Center can be reached at 919-739-7480, and is located at 901 Ash St. The W.A. Foster Center can be reached at 919-734-4164.
As for the city itself, the Goldsboro Child Nutrition and Outreach program has transitioned to giving funding to A Lot of Direction, Love and Affection Inc., a non-profit which operates a food pantry, soup kitchen and food truck in Goldsboro and Wayne County. The food truck served its first meals in April, and operates from 5 p.m. to 7 p.m. every Friday through Sunday. The truck visits the following locations:
* Bethel Church, 2308 N. William St.
* Fairview Homes, 1906 Edgerton St.
* Lincoln Homes, 1009 Slaughter St.
* West Haven , 138 Dupont Circle.
* Grand at Day Pointe, 2300 Day Circle.
* First African, 803 Harris St.
* ADLA building, 612 S. Breazeale Ave., Mount Olive.
* St. Mark Free Will Baptist Church, 222 Nelson St., Mount Olive.
* Southern Wayne High School, 124 Walter Fulcher Road, Dudley.
* Mount Gilead Missionary Baptist Church, 2711 Beautancus Road, Mount Olive.
Breakfast is served every day between 8 a.m. and 10 a.m., followed by lunches from noon to 1 p.m. Several other locations will be added during the summer, said ADLA Executive Director Danny King. Contact ADLA at 919-299-4450 for more information on when the food truck will be in your area.
Parents looking for meal programs nearby can text "Food" to 877-877 and receive a list of nearby summer meals locations. The service is run by No Kids Hungry, a national non-profit dedicated to making sure children have enough to eat year-round. You can also call 1-866-HUNGRY or go to NoKidHungry.org/SummerMeals to find a location near you.