Hardware store opens in Pikeville
By Rochelle Moore
Published in News on June 19, 2017 10:53 AM
Full Size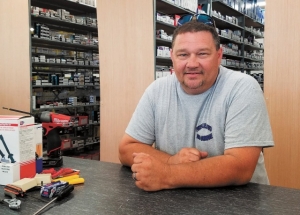 News-Argus/ROCHELLE MOORE
Owner Travis Crocker opens Pikeville Auto and Hardware store Wednesday inside the former Dollar General building along U.S. 117.
PIKEVILLE -- A longstanding auto parts store recently added hardware merchandise and moved into a building triple its size along U.S. 117 in Pikeville.
Pikeville Auto and Hardware opened its doors Wednesday inside the former Dollar General box store, at 112 Goldsboro St.
Owner Travis Crocker bought the CarQuest Auto Parts store, at 106 Railroad St., in 2016 and added hardware items, which led to increased business. He then decided to move to the larger location.
"We didn't have a hardware store in town anymore, so I added it, and it expanded quickly, " Crocker said.
"A lot of people didn't know CarQuest was there. Because of where we were, we really weren't visible.
"It started out 40 years ago, and it was just a small-town auto store, and it went from that to this in 40 years."
Pikeville Auto and Hardware is now inside an 8,000-square-foot building, after moving from the smaller 2,600-square-foot site on Railroad Street.
The goal is to provide everyday products so area residents can stay close to home.
"We're just trying to give the community something in the community," he said. "We want it to be a one-stop shop. Rather than drive 10 miles to get a kitchen faucet, we'll have stuff like that here."
The store, which offers a full line of automotive parts and hardware items, plans to offer competitive prices, Crocker said.
Workers this week are continuing to add products to the shelves, including vehicle accessories, CarQuest auto parts, lawn and landscaping items, such as rakes, shovels, potting soil and garden flags, and other items, such as Heybo shirts and hats and hydraulic hoses and lines.
The store recently added heavy duty truck parts, and plumbing and electrical items are also available.
"We have a full line of automotive parts and a full line of hardware," he said. "We've more than doubled our inventory. We've tripled the building size."
Crocker believes area residents will visit the store frequently for everyday products.
The store is open Monday through Friday from 7:30 a.m. to 5:30 p.m. and on Saturday from 7:30 a.m. to 1 p.m. Business hours will expand in July. The store can be reached at 242-6414.︳