Shots fired at home on North George Street
By Ethan Smith
Published in News on June 15, 2017 11:42 AM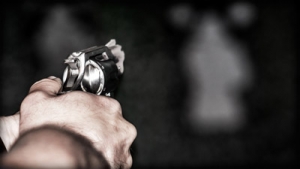 A 67-year-old woman's home on North George Street was struck by gunfire three times Tuesday around noon, according to a police report.
The report said the woman told police someone fired a gun at the handle of the screen door at the front of her house at 1106 N. George St.
There was a hole in the door handle, which appeared to be fired deliberately from the left side to the right side as if to break the locking mechanism, the report said.
The bullet then traveled behind the house's siding and lodged itself in a window frame, according to the report.
The report said it appeared that another bullet struck a window shutter, damaging it and another section of the home's siding.
A third bullet struck one of the posts on the porch, going through the post and out the other side, the report said.
None of the bullets entered the home, the report said.
The house sustained approximately $150 in damage, according to the report.
Anyone with information about this crime, or any other crime in Wayne County area is asked to call or text Crime Stoppers at 919-735-2255 or submit a TIP at p3tips.com.
Callers will remain anonymous and if your information leads to a felony arrest you will be given a cash reward for the information.