Car hits Highway Patrol station
By Steve Herring
Published in News on June 14, 2017 6:45 PM
Full Size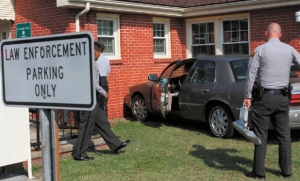 News-Argus/STEVE HERRING
At right Trooper Nolan Sanders holds a sign that was run over by the car that struck the patrol station. At left is Trooper J.P. Reyes.
A driver was taken to Wayne Memorial Hospital Tuesday afternoon after a car struck the back of the Highway Patrol station on West Grantham Street.
Officers said they think the driver accidentally stepped on the gas instead of the brakes.
No one was in the area of the building that was struck.
There appeared to be little damage to the building or car.