Rosewood salutatorian quotes Shia Labeouf: 'Don't just let your dreams be dreams'
By Joey Pitchford
Published in News on June 13, 2017 9:20 PM
Full Size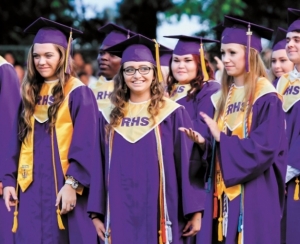 Jim Crouch
After turning their tassels Tuesday night the Rosewood High School class of 2017 smiles and claps.
The Rosewood High School class of 2017 took their first steps into the future Tuesday evening, as the school graduated 132 students in an outdoor ceremony.
With friends and family ringing the Rosewood football field, the graduates sat in front of the stage as fellow graduates and Rosewood choral members sang the national anthem. A light breeze and the early evening cloud cover made for pleasant weather as the graduates waited for their moment.
Salutatorian Sophie Ritchers gave her speech first, encouraging her fellow classmates to look to future and, in the words of Shia Labeouf, "just do it."
"Don't just let your dreams be dreams," she said.
As for her dreams, Ms. Ritchers did not enter high school hoping to achieve such high honors.
"It just kind of happened," she said with a smile.
Going forward, Ms. Ritchers plans to attend Wayne Community College on her way to becoming an elementary school teacher. She said becoming a teacher is her way of helping the next generation.
"I just feel like teachers make such a huge difference in kids' lives, and I want to do the same," she said.
Valedictorian Victoria Hill took the stage after Ms. Ritchers. She recounted her and her classmates' high school journey, from hapless freshmen to "slightly more confident" sophomores all the way to where they stand today.
Ms. Hill thanked her fellow students for being part of that journey, and bid them luck as they move out into the world.
Becoming valedictorian was always something Ms. Hill had in the back of her mind, as her older sister was salutatorian when she graduated.
"There was never anybody saying 'you have to be top of your class,' but it was always just a thing," she said.
Ms. Hill will attend the University of North Carolina Wilmington in the fall, and she said has tentative plans to study social work. Finding a field which will allow her to help people while also advancing professionally is a good fit, she said.
"I want to be able to work in something where I can help people, that's important to me," she said. "I want to move up, to the point where I'm owning something."
The graduates then took the stage, and the process went quickly. The entire graduation ceremony lasted around an hour, and then the newly-minted graduates walked off the field and out to their families.