Stackhouse takes over as medical director for Wayne County Health Department
By Phyllis Moore
Published in News on June 11, 2017 1:45 AM
Full Size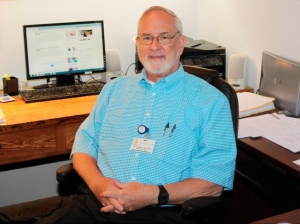 News-Argus/PHYLLIS MOORE
Dr. James Stackhouse, of Goldsboro Medical Specialists, has ben named medical director for the Wayne County Health Department.
The medical director for the Wayne County Health Department has retired, with another prominent local physician taking over the reins.
Dr. Ashton Griffin, whose credentials included having a private practice and being a pediatrician, had been medical director since Sept. 2008, at age 76. He retired last month, Health Director Davin Madden said.
Successor to the role will be Dr. James Stackhouse of Goldsboro Medical Specialists, who stood out in the hiring process because of his extensive credentials, both professionally and in the community, Madden said.
"He's had a very interesting academic career, a very noteworthy academic background," Madden said. "He had attended Emory School of Medicine and also Yale University."
He has worked in both family medicine and internal medicine. He has also been part of various boards and organizations in the community, Madden said.
"He had served on the hospital staff on the board of directors for Wayne Memorial Hospital. He was part of their medical staff, he had a lot of demonstrated activities that he had done in the past," he said. "He had come with very high references and accolades.
"He's well respected in the medical community."
Madden said the effort to find the right fit entailed not only experience, but philosophies and perspective as well.
"We cast a wide net in our clinical services, as our function and our responsibility as providers, we deal with pretty much everyone," he said. "Anyone and everyone in the county could be subject to be a client at the Health Department through our clinical programs."
During the interview process, Madden said among the topics covered were some of the visions and goals of the Health Department, as well as potential expansions down the road.
"I think he was well in line with that area," he said of Dr. Stackhouse. "He's still working his private practice and serving as medical director. I'm trying to transition him slowly so as not to overwhelm him, trying to give him a little time to acclimate to the public health scene."
Madden said they have also discussed some potential changes that might happen down the road. Nothing has been finalized or made official yet, though.
"There are some organizational changes that we're still looking at as part of our strategic plan to better improve our clinic flow to better serve the people," he said, explaining that the strategic plan gets revamped approximately every three years or so.
He had a few parting words for the former medical director, expressing gratitude for the service and expertise Dr. Griffin provided.
"The man worked for quite a few decades in Wayne County, first as a private physician and then later on serving the Health Department," he said. "He worked almost two lifetimes in Wayne County, serving the people. I think he went out on some good laurels.
"Dr. Griffin was ready to move on, I think, to enjoying retirement. As a seasoned doctor I think he was able to finally enjoy some of the fruits of his labors."
An informal farewell ceremony was held for the departing physician, Madden said, and Dr. Griffin's contributions will not be forgotten.
"We were very happy with Dr. Griffin," the health director said. "And we're very excited for (Dr. Stackhouse) coming on board to our team.
"Our goal is to just continue to move forward and try to always respond to what the community needs."