Local Hallmark shop closing its doors after 41 years
By Rochelle Moore
Published in News on June 11, 2017 1:45 AM
Full Size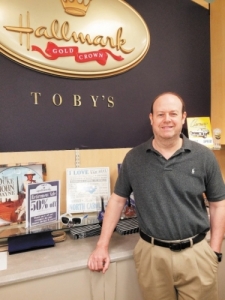 News-Argus/ROCHELLE MOORE
Toby Brannan, co-owner of Toby's Hallmark Shop in Berkeley Mall, plans to close the 41-year business as early as the end of June.
One of the Berkeley Mall's original stores -- Toby's Hallmark Shop -- is closing after operating at the same location 41 years.
Co-owners and brothers, Steve, Tim and Toby Brannan, decided to retire and expect the store to remain open until at least the end of June.
Just as sentimental as the store's cards and gifts, Toby has fond memories of being in the store from a young age. His parents, Steve and Shirley, opened the store in 1976, the same year the Berkeley Mall opened its doors in Goldsboro.
"I remember running around here when I was 10 years old," said Toby, who chiseled his initials in the door jam at the rear of the store. "It's still there to this day. There's a lot of memories."
Steve Brannan Sr. decided to name the store after his youngest son, Toby, because it was a name he believed people would remember and connect with.
The Brannan brothers, co-owners since 2000, decided on Mother's Day to close the store, after searching for a buyer at least a year.
"It has been a great challenge to sell the store," Toby said.
The store is still for sale, but the closing is planned within the next month. The store is also selling nearly all of its cards and merchandise at a 50 percent discount.
Goldsboro's Hallmark store has remained open during the past several years, even while Hallmark stores in other North Carolina cities have closed. Store owners continue to grapple with declining card sales and higher greeting card prices.
Today's generation is buying fewer cards and instead using free greeting options on social media, Toby said.
"Due to the extreme loyalty of our customers, we have been able to survive much longer than other communities that have lost their Hallmark stores," Toby said.
Seeing many regular customers will be missed the most, he said.
"To me, our business has always been based on loyalty," Toby said. "We've had customers shop here all the 41 years and they have become friends. Without the loyalty of the customers the past 41 years, there wouldn't have been a Toby's Hallmark."
The Brannan brothers look forward to retiring and having more time to do things they enjoy, something that's been challenging with the demands of operating a business.
"We're all three ready to move on to other adventures," Toby said. "The hard part about it is the part I enjoy the most, which are the customers."
Toby's Hallmark Store is one of the original and few remaining stores that opened in the Berkeley Mall in 1976. It doubled in size, in 1995, taking over a second tenant site, and has remained at the same location for more than four decades.