Fremont Scouts recognized
By Joey Pitchford
Published in News on June 9, 2017 7:14 AM
Full Size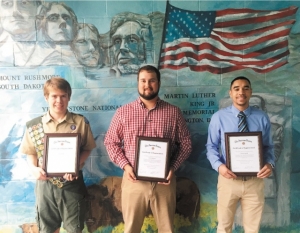 From left: Kyle Hooks, Jacob Ballance and Patrick Smith pose in front of a mural Hooks painted at the Fremont Boys and Girls Club. The three each did individual Eagle Scout projects which benefited the club building, owned by the American Legion.
FREMONT -- The Fremont American Legion Post 184 honored a trio of Boy Scouts Tuesday evening, thanking them for a series of projects that revitalized the town's Boys & Girls Club building over a three-year time span.
"It's been overdue," said Robert Clayton, Post 184 commander. "We heard about what these fellows had done and we decided it was time to say thank you."
Jacob Ballance, Patrick Smith and Kyle Hooks each completed a project at the building, owned by the American Legion, as part of their Eagle Scout requirements. Ballance was the first, in 2013, when he raised money to have a fence constructed around the perimeter of the club's yard.
Next came Smith, who in 2014 coordinated a landscaping overhaul for the club. His project ringed the club building with bushes and flower beds, and also added a sign outside the building to identify it as the Boys and Girls Club.
The last project came in 2016 courtesy of Hooks. Together with his family, Hooks re-painted the entire exterior of the building, re-glazed the windows and planted a tree in the yard. He also painted two murals inside the building's entryway and used whatever leftover money he had to donate books to the club.
Smith said his project took the efforts of many.
"It took a lot of time, support from my family," he said, turning to greet Ballance as he arrived. "And of course other Scouts coming out to help me."
American Legion member and World War II veteran Ralph Jackson presented the three with their certificates.
Ballance is a junior at N.C. State University, and Smith a rising junior at Wayne Community College. The two of them became Eagle Scouts while in high school.
Hooks is a rising senior at Charles B. Aycock High. He said he is in the final stages of becoming an Eagle Scout.