Music for the military
By Joey Pitchford
Published in News on June 2, 2017 7:10 AM
Full Size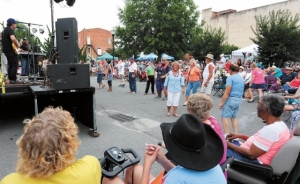 News-Argus/CASEY MOZINGO
People enjoy the music of Jim Quick and Coastline Thursday evening during the Center Street Jam.
Full Size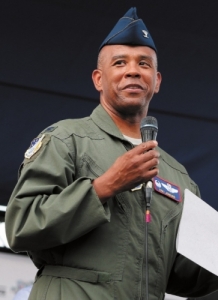 News-Argus/CASEY MOZINGO
Col. Eric Jenkins, commander of the 916th Air Refueling Wing, addresses the crowd at Center Street Jam Thursday. Both Col. Jenkins and 4th Fighter Wing Commander Col. Christopher Sage spoke at the event.
Hundreds gathered downtown Thursday evening for the Center Street Jam Military Appreciation Day, coming together for music, family and a shared spirit of community.
Mayor Chuck Allen made opening remarks, followed by Councilman David Ham, 4th Fighter Wing Commander Col. Christopher Sage and 916th Air Refueling Wing Commander Col. Eric Jenkins.
Jenkins, the last to speak, talked briefly about the support the Goldsboro community has given and continues to give Seymour Johnson airmen.
"This doesn't work without the sacrifice of our military members, and it also doesn't work without the support you give us," he said.
Ham, an Army veteran, did a roll call of military members in the crowd from each branch of service. One such person was Doug Svette, a retired veteran of the Army's 82nd Airborne Division, who came to the event with his wife, Karen.
As beach music band Jim Quick and Coastline rocked in the background, Svette said he comes out to Center Street Jam as often as possible.
"I love it," he said, adding a pair of red, white and blue sunglasses to his patriotic attire. "I come out to enjoy the music, the food, the atmosphere, and most importantly to support the troops."
As a veteran, Svette said he hopes to see even more events supporting the military as time goes on.
"The more the merrier," he said.
As the music played on, several people grouped up in front of the stage to dance along. One of them was Willie Ray, whose shag dancing put smiles on the faces of those watching.
"I'm just having fun," he said, pausing briefly to dance a bit more. "I'll shag all the way from Morehead City down to Jacksonville, Florida."
Some of the more enterprising members of the audience took advantage of the occasion to network their businesses, some in slightly unorthodox ways.
Daniel Schmitt, with Off-Center Pizza, wore a banana costume with a piece of cardboard bearing the company name taped to his forehead. When asked what the getup had to do with pizza, he responded with a question of his own.
"What doesn't a banana suit have to do with pizza?" he inquired.
And on that note, the music played on.
Other Local News