Tom Cuddington turns ordinary wood into usable items -- and whimsical things like crosses, cutting boards, trinket boxes
By Becky Barclay
Published in News on May 22, 2017 9:57 AM
Full Size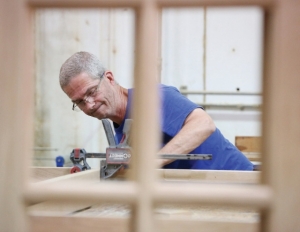 News-Argus/CASEY MOZINGO
Tom Cuddington builds the frame for a bi-henge door at Goldsboro Builders Supply. He uses his woodworking skills to create both decorative and functional items.
Full Size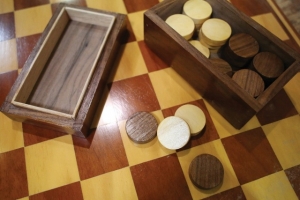 News-Argus/CASEY MOZINGO
Tom Cuddington made this checkers board, along with checkers and a box to keep them in.
Tom Cuddington will never forget a bench he made for a woman. The back is a solid wood piece. The sides are decorative posts. And all of it, except the actually part you sit on, is made from an old bed the woman had.
"She brought me an old bed with a big headboard, and she wanted the bed turned into a bench," Cuddington said. "It had a metal frame, so I used just the headboard and footboard. I took the foot rail and made the side rails of the bench with it. I used some oak wood for the seat. She painted it and it turned out really nice."
Since he had never turned a bed into a bench, he used his imagination to create it.
But that's nothing new for the 59-year-old. He's been creating and making furniture and other items from wood since he was 19.
It all started when he was looking for a job at 19 and found one at a company, making pencil post beds.
"It was fun," Cuddington said. "They had me doing stuff that ordinary people wouldn't do.
"It was just dumb luck that I ended up being a wood crafter. Growing up, I thought I'd be great at something one day, but I never thought in a million years it would be woodworking. It comes natural to me."
The craft Cuddington is talking about is not just taking some pieces of wood and nailing them together to produce something. It's more detailed than that.
Throughout his 40 years of being a woodworker, Cuddington has made everything from wooden windows and doors to tables and chairs. He even made a conference table for the company where he works, Goldsboro Builders Supply.
"The owner gave me a magazine from Restoration Hardware, and asked me if I could make a table for the conference room," he said. "He had some lumber stored in a warehouse. I used reclaimed pine for the top and reclaimed oak for the legs. The wood was more than 100 years old. The table is 12 feet long and 52 inches wide."
Cuddington also does mill work, things like trim for a home, interior doors, exterior doors, doorways with arched headers and other items.
But his all-time favorite thing is furniture.
"It's so much more precision," Cuddington said. "When you're making a bunch of pieces that have to go together, it's a huge puzzle. I love that precision work, I love it. When I was in school, I hated math. I still don't like it, but I have to use it every day, so I've grown to respect it."
Cuddington said there are not as many American wood workers today as there once was. And he's proud to be one of them.
Sometimes the pieces don't turn out the way Cuddington thinks they should have and he's thrown some away.
"I'm not going to give somebody something that I don't like," he said. "If I really mess something up, then I'll trash it. But if it's something I can fix, I'll fix it."
Cuddington also makes a lot of doors.
"People tell me how they want something to look and give me the dimensions and I go from there, using my creativity and imagination," he said.
He has also made cutting boards, a checkers board with a box for the checkers and even a hobby horse.
One of the most unusual things he's made is a honey pot, like the one Winnie the Pooh has.
"My daughter want to Meredith College, and they have cornhusking, which they love," he said. "They had to have a prop. My daughter naturally thought, 'prop, dad.' It was 8 feet tall. It was a challenge."
When his daughter got married back in November, she asked her father to make her a unity cross for the ceremony. Then two of her friends also wanted one. Cuddington is still making them for brides.
One of the very first things Cuddington can remember making was a potato and onion box for his mother-in-law and his wife, which they still use.
"I was in my 20s when I made them," he said. "I didn't use a pattern; I created them from my mind."
Since then, he's also made small trinket boxes for his wife. And he made some recipe boxes as gifts for Christmas.
"I get satisfaction making things for people," Cuddington said. "But sometimes people will dare me to make something. I love a challenge. I always take the dare. Then when they see the finished item, they're like, 'Wow.'"
One of the biggest and most intricate things Cuddington has made was a door unit using solid mahogany. He said the frame was between 300 and 400 pounds, the door 300 pounds and the storm door 150 pounds.
"It's something I love doing," he said. "Sometimes when I'm building something, I get to a point where I'll step back and look at it and just cross my arms and say, 'Man, did I just build that?' I'm in awe of what I've done, knowing it's a skill that was given to me by God.
"It's a real blessing. I'm not going to get rich being a wood crafter. I do it because I love it. It's etched in my DNA."