Police, Special Olympics athletes finish torch run
By Ethan Smith
Published in News on May 22, 2017 9:57 AM
Full Size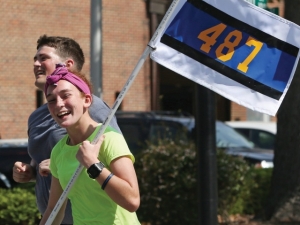 News-Argus/CASEY MOZINGO
Maria Memmelaar holds a flag in memory of her father, Maj. Jay Memmelaar, as she runs with representatives of the Wayne County Special Olympics and Goldsboro Police Department during their annual torch run Friday. Maj. Memmelaar, who died unexpectedly in February, was a big supporter of the event.
Full Size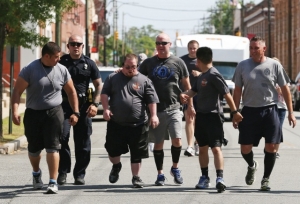 News-Argus/CASEY MOZINGO
Representatives from the Wayne County Special Olympics and the Goldsboro Police Department finish the annual Torch Run Friday as they travel south on John Street toward the police department.
Full Size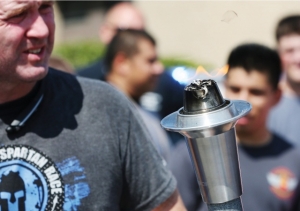 News-Argus/CASEY MOZINGO
The flame of the Special Olympic torch burns as runners catch their breath after a 14-mile run around Goldsboro Friday for the annual Law Enforcement Torch Run.
Officers with the Goldsboro Police Department and local Special Olympics athletes completed a 14-mile torch run through the city Friday.
The run raised about $2,500 to send athletes to the summer games.
Capt. LeAnn Rabun said the department has participated in the run for at least 10 years.
The route participants ran was South John Street to Arrington Bridge Road to U.S. 117 to South George Street to East Ash Street to North Spence Avenue to Cashwell Drive to North Berkeley Boulevard to Royall Avenue to North William Street to East Ash Street to North Center Street to East Chestnut Street to South John Street.
Some participants ran the entire route, while others joined in for several miles toward the end.
In addition to officers and athletes, several Basic Law Enforcement Training cadets ran the route.
About two dozen people participated in the run.
Money raised through the run came from other sources also, in the form of a $100 donation from Atlantic Eye Center and money raised through the Tip A Cop fundraiser.
The Tip A Cop fundraiser on May 11 allowed officers to be waiters and waitresses at Texas Roadhouse for a night to raise money for the N.C. Special Olympics.
The money officers raised through that program, both through being tipped by patrons and taking donations, went toward the program.