Councilman strikes conciliatory tone, calls for 'fresh start'
By Rochelle Moore
Published in News on May 20, 2017 10:09 PM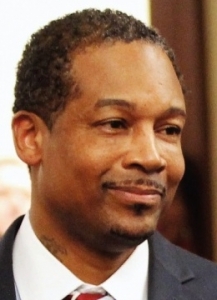 Councilman Antonio Williams
Goldsboro Councilman Antonio Williams asked for a truce of sorts during his recent comments near the end of Monday's council meeting.
Council meetings traditionally conclude with each member of the council having a chance to speak.
Williams, during his remarks lamenting over two recent murders in the city, told the council he wants to find ways to reduce violent crime.
"We need to figure something out for our young people," Williams said. "We really have to step up. We have to think outside the box.
"I'm sick. I'm physically sick because of what I see."
Williams said he recently attended the funeral of one of the young victims who was shot in the city.
"What are we going to do?" Williams said to the audience in City Hall. "What are you going to do?"
He then turned to the council and asked, "What are we going to do?"
Williams said the city has resources to make a difference.
He also told his counterparts he wanted to find ways to better communicate and connect to each other. His comments follow the elected body's more recent contentious environment, which has included disagreements, accusations, raised voices and riddling city employees with questions.
Mayor Chuck Allen recently said the council has a more contentious environment than he's seen during his 19 years on the council.
Williams asked if the council could start over.
"If I did something to my colleagues -- forgive me," Williams said Monday. "Let's start over fresh. If I did something that you to dislike, let's get past it so we can help this community."
Councilman Bill Broadaway thanked Williams for his statements during the meeting, and Allen said the council is making strides in improving the community.
"Believe it or not, as contentious as we say things might be, . . . this council has done more in a year than we've done in 10 years," Allen said.
Allen said the council, as well as the mayor and city staff, are all trying to make the community better and are working toward a greater level of inclusiveness.
"We are working on it, but I do want you to know that I believe in my heart we're doing as good now and there's as much good going in this community as there has been in the last, I know, 10 years that I've been involved," Allen said.
Councilman Bevan Foster said city leaders need to change.
"I think, as a council right now, we have members that are focusing on what they might lose instead of what we might gain," Foster said. "It's time for a change. It's time for a change in this city. People are tired. Employees are tired.
"We keep going over the same issues over and over again, and it's going to repeat itself until we make a change."
The issues the council continues to revisit are items Foster has asked be added to nearly every meeting agenda, since February.
During Monday night's meeting, the council voted 5-2 to allow the mayor the ability to pre-approve council meeting agendas. Foster and Williams voted against the change.
Councilman Mark Stevens told the News-Argus after the evening council meeting that he is tired of racially-laden discussions raised by Foster and Williams.
He said he is ready to move onto other topics.
Councilman Gene Aycock said Thursday that the elected body can chose to work together or disagree.
"It's easy to say it," Aycock said of Williams' statements. "We'll wait and see. He's a councilman just like I'm a councilman. We don't have to agree.
"As long as I have three other councilmen agreeing with me, we can get things done. No other member can get things done without the help of three others."
Broadaway said this week that members of the council have tried to reach out, specifically to Foster and Williams. He declined to say which members of the council tried to connect with the councilmen, in an effort to find common ground.
"There have been emails sent and no response," Broadaway said. "We have reached out a number of times, and nothing is ever acceptable, and whatever is done is not enough."
Broadaway also said the council has made positive decisions, but the focus tends to shift toward a negative environment.
"Look at all the positive things that have happened, and they seem to focus on the negative all the time," Broadaway said of Foster and Williams. "Everything is negative and divisive and that's frustrating.
"The council meetings, we used to be able to get things done. It's just that we spend an inordinate amount of time working on personal-agenda items."
Councilman David Ham said Williams needs to back his words with action.
"If he did say that, I would implore him to take the lead in trying to bring about a more conciliatory relationship amongst the council," Ham said.
"I think that sometimes his actions speak louder than words in creating divisiveness amongst the council members.
"We all, I think, would like to have a more unified-working relationship in order to achieve a common goal as it relates to the city of Goldsboro and its residents."
Other Local News