New life-saving vests for K-9s donated to sheriff's office
By Ethan Smith
Published in News on May 13, 2017 11:38 PM
Full Size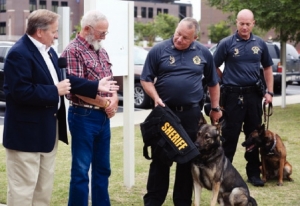 News-Argus/CASEY MOZINGO
Sheriff Larry Pierce, far left, speaks as new K-9 vests are presented to the sheriff's department's working dogs Friday at Wayne Memorial Hospital.
Full Size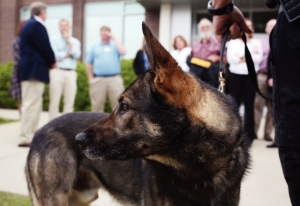 News-Argus/CASEY MOZINGO
Wayne County Sheriff's Office K-9 Ory waits for the beginning of a bulletproof vest presentation ceremony at Wayne Memorial Friday.
Members of Wayne UNC Health Care's IT department gave new vests to K-9's with the Wayne County Sheriff's Office Friday.
The department raised $2,400 for the new vests through a 50/50 raffle.
It was enough to buy four vests for four dogs. Though the sheriff's office has five K-9's, one is retiring in a few months, so the dog did not need a new vest.
Only one dog did not have a vest prior to Friday's presentation, which is Sgt. Doug Honeycutt's K-9 Ory.
But by the end of the brief presentation, Ory was wrapped up in his brand new bullet-proof and stab-proof vest.
Cpl. Jason Sasser, who is in charge of the K-9 unit, said the replacement vests are bulkier and higher-grade than the current vests, and protect the dogs from stab wounds as well as bullet wounds.
"K-9's are just as much a part of our family as any of us are," said Sheriff Larry Pierce.
Bob Forsythe was present at the ceremony to present the vests to Honeycutt and Sasser's K-9's, respectively Ory and Shorty.
He is the neighbor of one of the men in the IT department and was asked to sell tickets.
Having spent 30 years in the military and worked in the military police, helping was a no-brainer.
Forsythe said he had a lot of contacts in a lot of places around the world, so he sent a mass e-mail and the donations came rolling in.
The winner of the 50/50 raffle was a woman in Georgia named Heather Fortner, and she donated her portion of the winnings back to the cause so all the K-9's could get new vests.
With the old vests shelf-life near expiration, the new vests came at an opportune time.