Missed Direction: Craig Doubt's story
By Kenneth Fine
Published in News on September 4, 2013 1:46 PM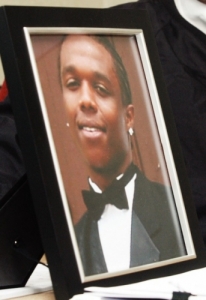 Craig Doubt
It has been nearly five years since Goldsboro police found Craig Doubt III lying behind a home on East Maple Street -- a victim of a gunshot wound to the back of the head.
And while his killer never faced a trial -- Monterio Devon Newsome was sentenced in a plea agreement May 16, 2011, to 14 years in prison -- the details of just what happened Sept. 8, 2008, have been documented both by those who were there and those friends and family members left behind.
Doubt, they say, was involved in an altercation with Newsome over a firearm.
He was, in his own way, standing up for a friend.
And when the situation turned toxic, Doubt attempted to remove himself from it -- walking away from the man who, moments later, shot him from across a city street.
Newsome is currently serving out his sentence in Bertie Correctional Institute, a prison located in Windsor.
He is slated for release in February 2022.
Other Local News