Empire Fire Mongolian Grill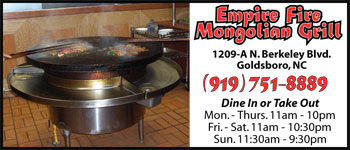 Dine In or Take Out
Hours and contact information:

Monday - Thursday:
11am - 10pm
Friday - Saturday: 11am - 10:30pm
Sunday: 11:30am - 9:30pm
Telephone: (919) 751-8889
Fax: (919) 751-8816
Menu
Great prices every day:
Day of week
Price
Monday - Saturday

Lunch: $6.95
Dinner: $9.95

Sunday:
(all day) $9.95
Carry Out
| Meal type | Price |
| --- | --- |
| Lunch: | $5.15 / lb |
| Dinners & Sunday: | $6.15 / lb |
| Bread: | $0.15 / pc |
| Soup: | $1.15 / pt |
| | $2.15 / qt |
For Chidren Under 12
Meal type
Price
10-12
6-9
3-5
Under 3
Lunch:
$4.95
$3.95
$2.95
Free
Dinner:
$6.95
$4.95
$3.95
Free
Buffet includes: Appetizer Bar, Salad Bar and Dessert Bar
Steps to Mongolian Grill
Take a bowl and select your favorite vegetables, meats and seafood from the Mongolian bar.
Choose your favorite sauce ingredients or ask the griller to make a traditional one for you.
Watch as your meal is cooked in 2 minutes on a giant, round grill.
Return to your table and enjoy your piping hot, custom creation that is truly your own.
Go back and mix a different combination — unlimited offers on the Mongolian bar.
Sorry, No Sharing, No Doggie Bags.
Menu items
Vegetables

Broccoli
Carrots
Cabbage
Bean Sprout
Celery
Onion
Scallion
Mushroom
Peppers
Pineapple
Red Cabbage
Zucchini Squash
Napa and more
Meat

Chicken
Beef
Pork
Ham
Lamb (Dinner)
and more
Noodle

Italian Spaghetti
Bread

Sesame Bread
Seafood

Crab Meat (imitation)
Scallop (Dinner)
Squid (Dinner)
Shrimp
and more
Soups

Wonton soup
Hot & sour soup
Egg drop soup
Sauces
Mongolian sauce, Oyster sauce, Ginger sauce, Chili sauce, Garlic water, Sugar water, Lemon water, Oil and Wine (Suggestion: take each scoop of all sauces, and you can get more than one scoop according to your preference).
Introduction
What's good for everybody today? What's fresh and healthy? How can you treat your friends and family to a new dining experience?
Go to Empire Fire Mongolian Grill for a unique way to eat out and eat healthy. You can pick a variety of meats, seafood and vegetables from the cold bar, choose your favorite sauce, and then enjoy watching the chef use the giant chopsticks to cook your customized meal.
Remember: It is good for everyone, whether you are a vegetarian, a meat lover or on a low carb diet...for you are the one who creates your own meal.
History
Mongolian Grill was originally from ancient Mongolia. According to legend, when the mighty Ghengis Khan was expanding his empire, after a long day of battle, he and his warriors set up a tent, made a campfire, and then sat around the campfire to prepare for their dinner. Short of cooking utensils, the warriors would use their fighting tools like the swords to thinly slice the meat, then grill the meat upon the warriors' upturned shields over the campfire.
Until the 13th century, Mongolian Grill was introduced into Central Plains. The Chinese People made an innovation to add on some fresh vegetables, spices and sauces to make Mongolian Grill more attractive.